The 3rd stage of the 12th Nongshim Cup has started. A Korean player ended with a win in the 2nd stage and this was Choi Cheolhan.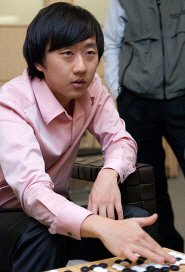 The first game was against Zhou Ruiyang 5dan. In the opening they played a new variation which was better for white played by Choi Cheolhan.
The middle game was easy for white and Zhou resigned after 214 moves. Now only one Chinese and Japanese player is left! Korea has two players inclusive Choi in the tournament.
Cheolhan played the next game against Japan's Yuki Satoshi. Black (Choi Cheolhan) had an easy win against him. White made some mistakes, Kim Seongryong 9dan said
that Yuki Satoshi played two bad moves in the opening, 44 and 46; that became a big baseless group. Fortunately, he saved the group, but Choi Chulhan was ahead in territory. Since Yuki was totally losing, he made his bid for victory by 112 to 116, taking a big risk. However, it failed, and another big group of Yuki was captured. That was the end of the game.
Next opponent of Choi is Kong Jie from China!
Yuki vs. Choi
First game: Choi Cheolhan (w) vs. Zhou Ruiyang (b) - W+R
Second game: Yuki Satoshi (w) vs. Choi Cheolhan (b) - B+R
- a1r -