Moon Dowon did it again! She won her sixth game in a row. That is a record, shared with her opponent of this game - Song Ronghui.
Here is the event opening with some paparazzo: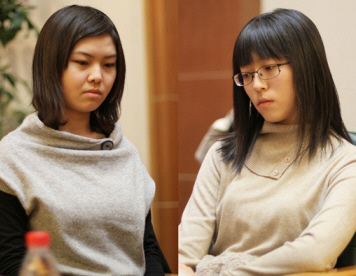 This game was not so difficult as the last one. Dowon chose the Chinese opening by playing black and after approx. 50 moves she had an advantage. Song Ronghui couldn't do anything and resigned at move 205.
The next opponent could be Yoshida Mika or Suzuki Ayumi.
RESULT: B+Resignation
Some information about the tournament:
Top prize is 75,000,000 Won (approx. $ 67,000/ 51,300 €), and for runner up 15,000,000 Won (approx. $ 14,000). Each player is given 1 hour and 3 periods of 40 seconds for the overtime.
The 9th Jeonggangjang Cup is sponsored by Korea Ginseng Corp. and managed by KBA, WorldCyberkiwon Corp., and BadukTV.